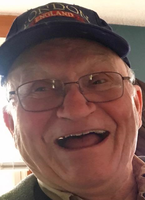 Norman J. "Norm" Willis
Norman J. Willis
Dundee: Norman "Norm" James Willis, age 80, of Dundee, NY, passed peacefully on Saturday January 13, 2018, at Geneva Living Center North.
Norm was born June 5, 1937 in Elmira, NY, the son of Raymond James Willis and Eleanor (Horton) Willis and brother of Janet Willis (Lanphear). At age eight, he moved with his family to Dundee, and took up residence in what was once a one-room school house--where Norm lived until 2017.
Mr. Willis graduated from Dundee Central School in 1955, enrolling for a short time at Oswego College before serving as an aircraft mechanic in the United States Airforce, stationed in Sumpter, SC and Nice, France.
Though Norm was humble and self-effacing, he was a skilled craftsman, handyman, and Jack-of-all trades. He worked for Wright-Built Boat Company from 1964 to 1971 building handcrafted, specialty, K-Boat sailboats. Norm worked with his brother-in-law and friend, Milt Lanphear, to construct a variety of local homes and structures in the Dundee and Penn Yan area, including Skye Locke Village Apartments where he continued to serve as the maintenance supervisor for many years. He later used his extensive knowledge of construction and woodwork to assist customers at Heplers Hardware and Robinson Lumber. Norm revisited his passion for craftsmanship, building custom-made shelves and cabinets for his shop "The Top Shelf" at the Windmill Farm and Craft Market in Penn Yan, NY. He went on to become the maintenance and ground supervisor for The Windmill until retirement.
Norm was passionate and devoted to his family and community. He married Frances (Martz) Willis on August 18th, 1973. Norm took great pride in their three children, Kimberly, Kristine, and Raymond, supporting them in all their activities and adventures. He shared his ability to design and construct with his son, Ray, his love of cultures and people with his daughter, Kristine, and his devout faith as well as his love of sports with his daughter, Kim. Norm was a passionate musician with an uncanny ability to pick up a cornet or harmonica and play with great tone and accuracy- - and his well-known, harmonic whistle would always announce his presence from afar. He enjoyed bowling, scoring 300 on at least one occasion, and vintage cars, especially 1955 Chevys. With his wit, quick jokes, and silliness, Norm had the gift of making people smile. He shared an abundance of love and laughter through giant bear hugs, warm friendships and through a genuine interest in the lives of his friends and neighbors.
Norm was a faithful member of the Dundee Presbyterian Church for over 72 years, worshipping from the same family pew until his passing. He was dedicated to God and his church family, serving as an elder, as well as the keeper of grounds and maintenance. He built sets for the Dundee Drama Club Productions and volunteered at the Dundee Youth Center, Meals on Wheels, Camp Good Days and Special Times.
Norm is survived by his children, Kimberly (Greg Podoliak), Kristine (Reuven Weizberg), Raymond (Barb) Crosby-Willis; five grandchildren, Kaleb, Liliana, Ariela, Hunter, and Calvin; sister Janet Lanphear; former wife and friend Fran Willis (Tom Shepard); nephew David (Marie) Lanphear; several great nieces and nephews, cousins, and many friends. In addition to his parents, he was pre-deceased by his brother-in-law Milt Lanphear, niece Lori (Lanphear) Olson, and several cousins.
Calling Hours will be held from 6-8 pm on Thursday (Jan. 18) at Baird Funeral Home, 36 Water Street, in Dundee, NY and from 12-1 pm Friday (Jan. 19) at the Dundee Presbyterian Church. Funeral services will be held at Dundee Presbyterian church on Friday January 19 at 1:00 pm with Rev. Ellen Donnan and Commissioned Ruling Elder, Priscilla Andrews officiating
Memorial contributions can be made in appreciation to Dundee Ambulance and Meals on Wheels.
Online condolences can be sent by visiting www.bairdfuneralhomedundee.com.