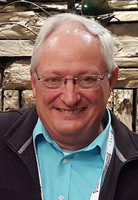 James M. Koehler
James M. Koehler
Dundee: James "Jim". Koehler, age 65, passed away in the comfort of his home on Monday April 9, 2018.
There will be no calling hours. A Celebration of Jim's life will be held at 2:00 p.m. Sunday April 29, at the Dundee Baptist Church 20 Seneca St. Dundee, NY with Lay Pastor Lew Ann Giles officiating..
Memorial donations may be directed to Hope Walk of Yates County. P.O. Box 174 Penn Yan, N. Y.; or Ontario-Yates Hospice 756 Pre-Emption Road Geneva, N.Y. 14456; Boy Scout Troop 25 c/o Scout Master Jake Clancey 55 Main Street Dundee, N.Y 14837 and to Dundee Scholarships for DCS students Dundee Central School 55 Water Street Dundee, N.Y. 14837
Jim grew up in Western New York. He owned and operated his own dairy farm before moving to the Finger Lakes area to work as a breeding specialist for Genex / CRI. After retiring he was able to work part-time for the Yates County History Center as their agriculture historian and working many hours on digital imaging.
Known as a "walking encyclopedia" and a "Jack-of-all trades" Jim enjoyed sharing his knowledge with others. Community involvement was very important to Jim; he served as Scout Master for Dundee Troop 25 going on many camping, hiking, and canoeing trips with his sons and the Troop. He wanted to teach skills and give opportunities to the young men of Dundee. He was a Paul Harris Fellow of the Dundee Rotary Club serving as a past President and starting the club's scrap metal drive. He was President of the Dundee School Board serving on the board for many years and participated in New York State School Boards Association, Four County School Board and Rural Schools Association of New York State wanting DCS students to receive the best education possible. Jim enjoyed spending time with his family, having coffee with "the guys" in town, a good laugh, sailing on Seneca Lake; train rides especially steam trains, and trips to the Adirondacks.
Jim is survived by his wife Denise of thirty one years; sons Steven, Jeffery, Brian (Ashley), and Michael; grandsons Emmerich and Dominik; brothers Ken, Tom, Jack (Rosie), Ed (Diana), Bob (Susan); sister Ann (Roger) D'arangelis; nephew Ken (Kasey) Koehler other nieces and nephews; mother and father-in-law Sarah and Gordon Baubie.
Jim was predeceased by his parents Marian and Edward, a brother David, nephew Timothy, and step father Arthur Wiltberger.
Arrangements are with the Baird Funeral Home 36 Water Street Dundee, New York; online condolences can be sent by visiting www.bairdfuneralhomedundee.com